Who is Mohamed Abdelhay and some of his photo achievements. We will discuss how taking pictures with your mobile can be the foundation for quality graphic design creatives. We sent Mohamed Abdelhay a few questions on his Instagram account @Mohamedabdelhay96. Mohamed Abdelhay explained that no one can ever deny the role of the image in our current life in this particular time, whether it is economic, social or even political. Man can dispense with them, such as private personal photos in government transactions and memorial photos, which have the lion's share.
He love to paint photorealistic and all types of pictures, and this was actually a good base for what he's doing now, He loves telling stories with his images, which feature Reality with imagination. We asked Mohamed abdelhay some questions on his Instagram account and he said It's a bit like painting, but instead of paint, a real brush, and canvas, I use photos and Photoshop to create the images that pop up in my mind, I often think in images.
See how how egyptian Digital artist make a mix between reality and imagination, behind that the Egyptian Digital Artist Mohamed Abdelhay. So let me start with a bold statement. Mohamed abdelhay is probably the most famous composite artist in egypt. If you have not seen one of his images before, you are either short-sighted. I do not think modern technology has blossomed there yet. Anyway, Mohamed abdelhay work is renowned for its craftsmanship, its humor, as he uses his photos that he captured with his mobile in most of his designs.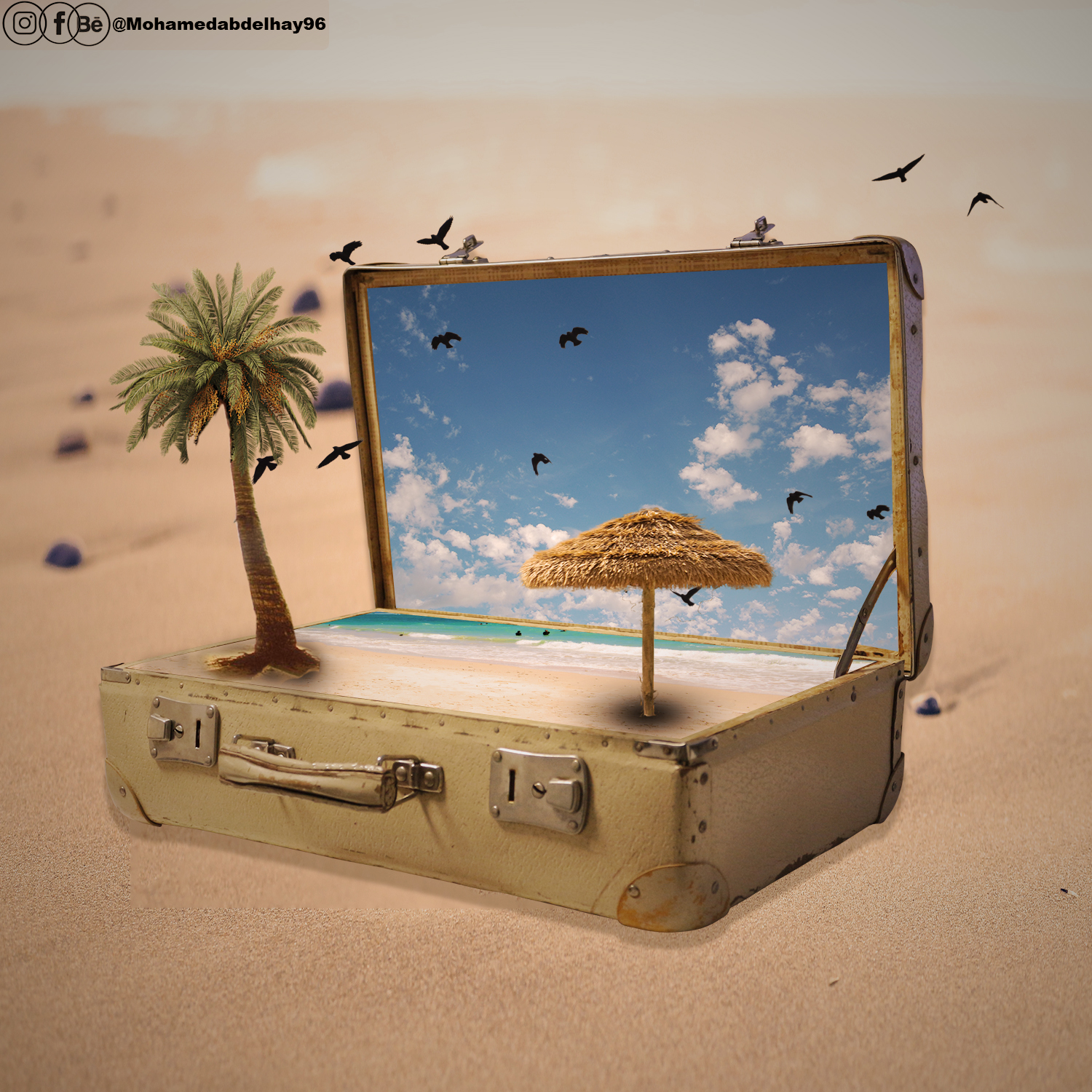 With all this expertise inside that brain of his its only natural for him to want to inspire others. Which is why he has some behind the scenes , showing exactly how he creates these amazing composites. The favorite of mine is the image of the pyramids he taken with his mobile camera and he composite and manipulate it with some fishes and sharks in side the pyramids.
Mohamed Abdelhay also stressed that he does this without any money and for free in order to draw laughter and joy in the face of others by modifying their photos and restoring the past photos to the present and that he does not seek any exchange for money but rather he does this to exercise his talent because he loves design and Photography.
Because of his interest in graphic design from childhood he worked hard to achieve excellence in the field of photography. There are numerous brands for organizations, new businesses, and people that are developed by his creative mind. With an abundance of experience, he is providing an approachable and hassle-free designing services. He understands the worth of your pictures for you and considers every project is personal. He steps outside of the usual cliches and corporate norms to give your project special attention and deliberation it needs to fulfill accurately. His designs are a sign of love. Mohamed Abdelhay put this professional skill into each designing and photography project to ensure the best possible result.
Visual originators give shading and life to any image. Graphic designers settle on the best method for getting a message across in print, electronic and film media with the assistance of shading, type, photography, movement, representation, and different print and design systems. They produce bundling and promoting handouts for items and administrations, and plan logos for items and organizations. They are additionally into planning material for Internet website pages, intelligent media, and sight and sound undertakings.
Those pictures are memories of their loved ones and need a lot of investment to restore them. Mohamed Abdelhay certified photographer and graphic designer helped many peoples through Instagram account @mohamedabdelhay96 without demanding any money for this work. From childhood, Mohamed was interested in graphic designing which is a main behind to be a great photographer and graphic designer. He grew up with a solid enthusiasm and want for being an expert designer. To change his destiny he decided to take a graphic designing course in Adobe Egypt that was a leading step toward his goal. He achieved his dreams by using different designing techniques to convert his ideas into extra-ordinary designs that easily attract anyone. He is an expert to use to take photos and use them in his designs which increase the worth of his art.